The Certified Senior Advisor (CSA)® Credential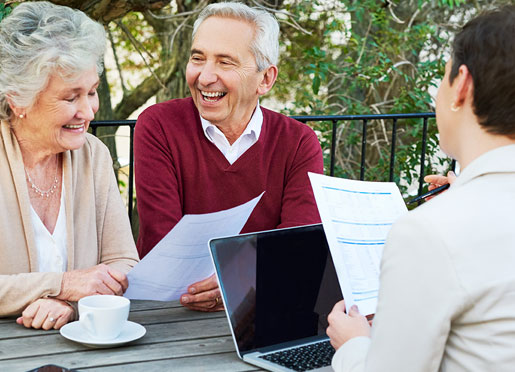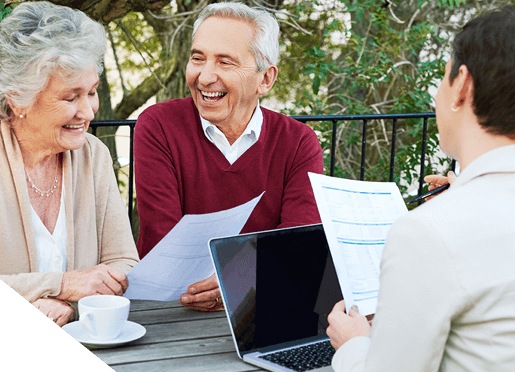 Why Become a Certified Senior Advisor
Certified Senior Advisors (CSAs) understand how to build effective relationships with seniors because they have a broad-based knowledge of the health, social and financial issues that are important to seniors, and the dynamics of how these factors work together in seniors' lives.
The health and social work fields have an array of credentials, as do other professions. For example, the financial services field alone, you could earn at least 70 different credentials. These credentials teach professionals about products and professions. The CSA credential focuses exclusively on people. So, it's not a question of whether to become a CFP, GCM or a CSA. It's a question of and.
Professionals who choose the CSA Course and Exam option learn what's important to seniors and how – always – to keep their interests first. Whatever your specialty, you already know your business. In the CSA Course, we teach you about the people you do business with. The result is successful professionals and satisfied seniors.
Please download and review the CSA Program Brochure for program details, course and exam information, payment options and certification requirements.
CSAs Understand the Financial, Health, and Social Issues Seniors Face
These are the key factors that converge to fundamentally shape our lives. As a professional in your field, you need to understand how these factors interact so that you can add that knowledge to your existing professional expertise to the benefit of your senior clients.
Becoming a CSA will not make you an expert in any other profession. But the certification enables you to better apply your professional knowledge to seniors. This makes your own professional recommendations and referrals far more effective, and makes you a valuable resource to your senior clients.
CSAs Know How to Communicate Effectively With Seniors
That means knowing everything from how to relate to seniors, to understanding why seniors make decisions, to designing senior-friendly communications. Improving communication with seniors is one of the top three reasons professionals give as why they became CSAs.
CSAs Recognize What's Important to Seniors
Make no mistake: No title, certification or credential can make someone credible. Credibility is the sum of knowledge, skilled communication, and high ethical standards. When professionals bring these things to their work, they give their clients recommendations and referrals that their clients appreciate. And that's the single factor that defines any professional's success.
When clients ignore your recommendations, it can mean they don't see the need for your service. Or that you don't fully understand their needs. Or, worse, they don't view you with enough credibility to deserve their trust.
When they take your advice – or buy your product, or subscribe to your service – it means they respect you and value the role you play in their lives. It means they believe you understand their needs and can solve their problems.
However, the key is understanding. Only if you understand what's important to seniors will you gain the essential credibility you need.
That's why SCSA is focused entirely on helping professionals understand the surprising complexity of what it means to be a senior today. It means looking at seniors in an entirely different way and thinking about them with a completely different mindset. It means becoming a Certified Senior Advisor (CSA)®.
CSAs Have the Knowledge & Resources to Develop a Plan for the Senior Market
Marketing is good communication, skillfully and ethically applied. In the CSA Course, we teach professionals the do's and don'ts of communicating and building relationships with seniors.
What do you want people to associate with you when they hear your name? Is there an area of focus for which you want to be perceived as an expert? The CSA credential is the part of your personal brand that differentiates you from others in your field. By becoming a Certified Senior Advisor (CSA)® you are taking an integral first step in defining your personal brand, by attaching yourself to the strong brand of the Society of Certified Senior Advisors.
CSAs Demonstrate Expertise in Their Field
Professionals in many fields have chosen to enhance their ability to serve the senior community more effectively by becoming CSAs: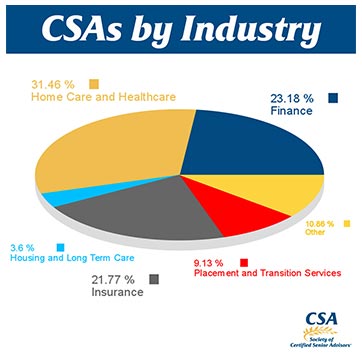 Accountants
Attorneys
Business executives
Clergy
CPAs
Doctors, nurses and pharmacists
Financial planners
Funeral directors
Geriatric care professionals
Home health care professionals
Insurance agents
Realtors
Reverse mortgage lenders
Senior housing professionals
Social workers
Stay updated with the latest news and information from SCSA.